You deserve a bedroom that is luxurious, modern, unique, and inspired by nature.
Your bedroom is a deeply personal space. It's not just a room with a bed, dresser, bedroom rug, comforter, and mattress. Sure, these items might be found in most bedrooms, but ultimately a bedroom is more than that. It embodies your own unique style and offers you sanctuary from the hectic world.
If there's any place you deserve to feel pampered and posh, it's in your bedroom.
At Shepherd's Dream, we want to help you turn your bedroom into a beautiful, luxurious oasis that is 100% chemical free, pure, and all-natural. Unlike traditional furniture stores and bed manufacturers, we believe that the key to modern luxury is designing high quality products that aren't just soft and comfortable, but also highly functional, durable, and environmentally sustainable.
Luxury bedrooms are an investment in your personal health, happiness, and well-being, which is why we've made it our mission to offer designer-quality bedding and furniture directly to consumers at an affordable cost.
From handcrafted wood bed frames and modern nightstands to pure wool comforters and plush pillows, we've got everything you need to design your perfect sleeping sanctuary.
Design your luxury bedroom with natural bedding and furniture
Turning an empty room into a cozy, luxurious space or reinventing your current bedroom to be more modern and contemporary takes a bit of imagination and creativity. Sometimes, it helps to take on big projects like this piece-by-piece, rather than trying to tackle it all at once.
To help you get started, we invite you to look at our all-natural bedroom products available online right now. You can mix and match any of our bedding and furniture to customize your own space — or combine all of these items to create a beautiful bedroom that is 100% luxurious, modern, and inspired by nature.
Premium Wool Mattress
Enjoy deep, restful sleep every night with our signature wool mattress. For complete breathability and greater longevity, we suggest that the wool mattress be placed on a wood slatted frame.
Our All Wool Mattress will compress about 10% during the first 6 months of use. In order to ensure even compression, we recommend sleeping all over the mattress and rotating it on a regular basis. With proper care, this mattress will last for several decades. There's just nothing quite like sleeping on an all-natural wool mattress. Experience the relaxation of our EcoWool® mattresses for your best night's sleep.
Plush Wool Topper
When many people think of bedroom luxury, they think of sleeping surrounded by cozy, comfortable, and cloud-like softness. With our pure wool mattress topper, you can fully experience the luxurious benefits that wool provides. Stuffed with 3 heavenly inches of Premium EcoWool batting and encased in a thick, organic cotton sateen, our mattress topper will keep you warm in the winter and cool in the summer.
You can add this topper to your existing mattress to provide additional support, cushion, and breathability — or pair it with one of our All Wool Mattress for maximum luxury and comfort.
Elegant Wood Frame
Nothing says "luxury" quite like handcrafted furniture. Your bed is the centerpiece of your bedroom, which is why it's an important decision. Our Century Frames embody classic Danish design from the 1950s, made by hand from sustainably harvested North American hardwoods.
The subtly tapered legs, elegant tops and hand-rubbed finish give the frame an elegant, modern look. These frames are as beautiful as they are functional. Wood options include cherry, maple and walnut.
Cascade Latex Base
Place this Cascade Latex Base beneath your All Wool Mattress to help soften a naturally firm wool bed.
On its own, wool can feel too firm for some folks. Adding a latex pad underneath the wool mattress allows you to experience the resilient and supportive benefits of wool with a little more give than wool alone is able to provide.
Modern Nightstand
Why can't a versatile and functional piece of bedroom furniture also be a piece of art? With this nightstand from Puritas, that's exactly what you get! Each board is handpicked to compose a final harmonious piece of furniture that showcases the wood's natural character.
The nightstand is made using only the finest North American hardwoods that are sustainably harvested. Wood options include cherry, maple and walnut.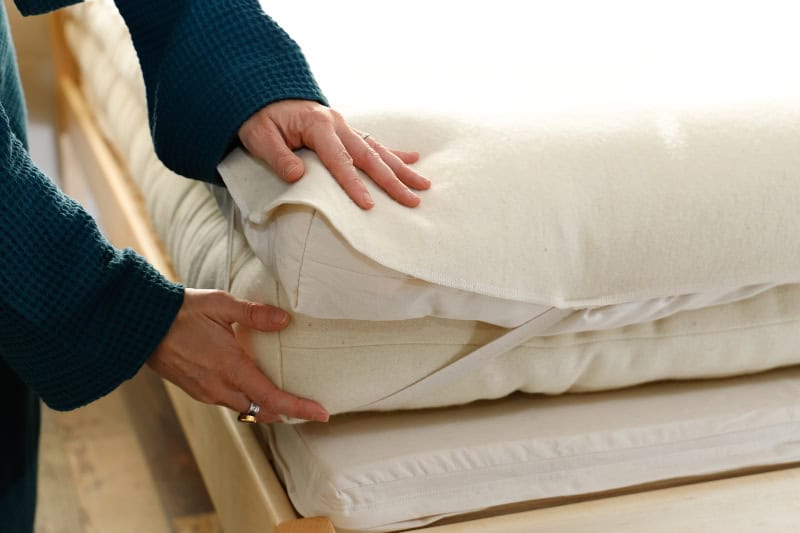 Lavish Wool Protector
Properly caring for and maintaining your bedding so that it looks like new is one of the secrets of keeping your bedroom set luxurious for longer.
In addition to increasing the longevity of your mattress, our washable mattress protector is breathable, highly absorbent, naturally flame resistant, mold and mildew resistant, moisture wicking, and is made out of our pure Melton wool textile.
Deluxe Wool Comforter
Sleeping soundly through the night is perhaps one of the most desirable goals of a luxury bedroom set. Our popular pure wool comforter is versatile and cozy, no matter the season.
Our EcoWool is the perfect filling for a cozy and healthy comforter because it naturally reduces common bedroom allergies, resists mold and mildew by absorbing moisture, and helps your body naturally regulate temperature — all without any chemicals. We've got you covered! Our EcoWool® bed comforters are filled with perfectly temperature-regulating wool for beautiful and all-natural warmth.
Restorative Wool Pillows
Need support? Our EcoWool® pillows are made with a specialized blend of all-natural wool fibers for the perfect loft so you can have sweet dreams.
Imagine, each night, laying your weary head down on clouds of the softest wool you've ever felt. Our pure sleep pillows are stuffed with 100% Premium EcoWool batting, and encased in soft and durable cotton sateen.
Our pillows are available in different sizes (Standard, Queen, King) and densities, allowing you to choose the right pillow for you that offers the best support and comfort to nurture you night after night.
And that's not all! At Shepherd's Dream, you can find everything you need to design your own custom luxury bedroom set, including:
Why choose Shepherd's Dream
There's a reason Shepherd's Dream is the go-to source for all-natural, luxury bedrooms. Since 1997, it has been our joy to deliver the highest quality natural bedding and bedroom furniture to a growing population of natural product lovers in the USA, Canada and around the world.
Based in Montague, CA, we are proud to handcraft bedding that is 100% chemical-free, American made and all natural. We believe it's important to be stewards of the Earth, which is why we only use environmentally-responsible industry practices and sustainable production techniques.
Made from 100% natural materials
No chemicals or flame-retardant toxins
Handcrafted in California, USA
A taste of luxury: Try a Shepherd's Dream sample kit
Not ready to buy yet? We'd like to offer you a Wool Bed Sample Bedding Kit. Try out our merino wool blankets and other natural bedding solutions such as wool mattresses, mattress toppers, comforters, mattress protectors, wool felts and latex slats. This is a great opportunity for people who do not live near one of our bed testing locations to try out the wonders of wool first hand.
We charge a nominal fee of $50-60 to cover shipping costs to and from your home. If you decide to purchase wool bedding items totaling more than $500, we will subtract this amount from the merchandise total of your order.
Fill out the contact form or call our office to request your sample kit today at 1-800-966-5540.