All American Pure Merino Wool Blankets
Snuggle up with one of our amazingly soft, washable wool blankets, throws and comforters
We think you'll agree that there's nothing quite like curling up on the couch or in bed under the warm protection of a big, lush, comfy blanket. You work hard, so every once in a while, it's healthy to allow yourself some time to sit back, relax and enjoy the peace while wrapped up in a super soft blanket.
Our pure Merino wool blankets are the perfect way to escape the humdrums of everyday life and enter a world of coziness, tranquility and comfort. Pamper yourself or a loved one with the comfort of a Merino wool blanket from Shepherd's Dream. You deserve it!
Our natural Merino wool blankets are available in any size you need: baby, throw, single/twin, double/queen and king.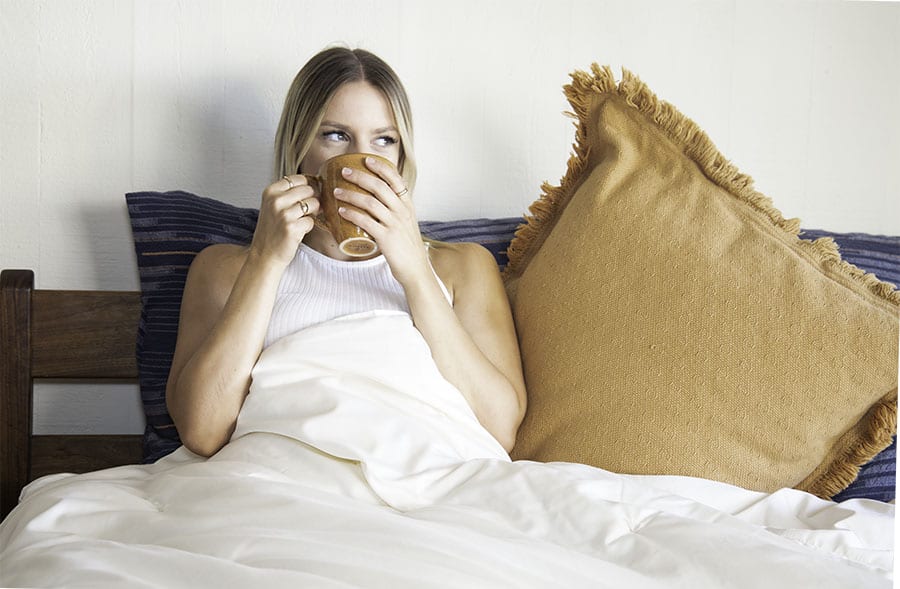 All-Seasons Wool Comforter Reviews
"Love it! It's been a year since I've purchased my comforter. I turn the heat off at night and although the temperature drops to 57 degrees F, I am warm as toast under my comforter!"
Joyce, Home and Gardening
"I love this wool all seasons comforter! I do need an extra blanket on really cold nights though, but I am always cold anyway. This comfortable is wonderful!"
Denise Arias, Home and Gardening
"This is one of the most comfortable blankets I've ever owned… I sleep very well under this comforter. Well worth the price. Seems like it will last forever."
Brian, Home and Gardening
9 Reasons to Love Our Merino Wool Blankets
Machine washable
Super fine soft Merino wool
Classic over lock stitch for extra natural warmth
Lightweight, itch-free lambs wool
Breathable fabric for year-round comfort
Mold and mildew resistant
Naturally flame resistant
Produced without harmful chemicals
Thicker and more luxurious than ever!
What is Extra Fine Merino Wool?
The word 'Merino' refers to the breed of sheep that supplies the wool.
Merino sheep are some of the oldest and toughest breeds in the world, able to withstand the scorching hot summers and freezing cold winters of New Zealand's rugged Southern Alps range.
The key to their survival is in their fleece – Mother Nature's simple, efficient and amazing solution to the extremes of the sheep's natural environment.
From apparel to housewares to bedding, the many benefits of Merino wool have made this a popular material:
Breathable
Merino wool fabric is highly breathable and absorbent, helping to prevent clamminess, resist natural odors and increase comfort.
Moisture Wicking
Merino fibers draw moisture away from the skin better than cotton, helping your body naturally regulate its temperatures in all seasons.
Ultra Soft
Though able to withstand years of heavy use, merino wool contains fibers with small micron diameters that make it plush and comfortable.
Lightweight
Merino wool is a lightweight material, yet amazingly warm. This makes merino fabric highly portable, easy to move and easy to care for.
Durable
Wool fibers are super fine, meaning they are able to bend more than other coarser wool fibers. This makes merino wool extremely resilient.
Non-Flammable
Wool is a naturally fire-resistant material, meaning it doesn't contain flame-retardant chemicals or other toxins that are bad for your health.
Natural
Unlike cotton and synthetics, merino wool is made from natural lambswool – simply a byproduct of sheep, water, air, sunshine and grass.
Eco-Friendly
Merino wool is 100% biodegradable and an entirely renewable fiber source. We only support sustainable sheep farming practices.
Easy to Care For
Merino wool is machine washable, odor resistant, stain resistant and easy to clean. Air dry merino wool for increased longevity and softness
All-Natural Merino Wool Blankets Handmade in the USA
At Shepherd's Dream, our philosophy is much different from other bedding companies in that all of our products are 100% chemical-free, pure lambswool and American made. We stand committed to using the highest quality materials and engaging in environmentally-responsible, sustainable production techniques and industry practices.
Merino wool blankets aren't the only way we help enhance your sleeping experience. We also sell wool mattress toppers, mattress pads, wool comforters, wool pillows and organic cotton sheets to help you sleep your natural best!