Certified by Oregon Tilth
[OT-021962]
GOTS
The Global Organic Textile Standard (GOTS) was developed through collaboration by leading standard setters with the aim of defining requirements that are recognized world-wide and that ensure the organic status of textiles from harvesting of the raw materials through environmentally and socially responsible manufacturing all the way to labeling in order to provide credible assurance to the consumer.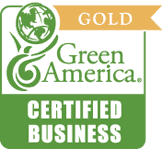 GREEN AMERICA CERTIFIED BUSINESS
Green America certifies businesses that are committed to using business as a platform for social change. Since 1982, Green America has evaluated over 8,000 small businesses.
Green businesses adopt principles, policies and practices that improve the quality of life for their customers, employees, communities, and the planet. The members of the Green Business Network are changing the way America does business.
OEKO-TEX STANDARD 100
The OEKO-TEX Standard 100 is a globally consistent testing and certification system for raw, semi-finished, and finished textile products in every processing stage and for all accessory materials used in the process. The objective is to offer end consumer human-ecologically optimized, harmless products tested in line with the OEKO-TEX criterial catalog, and to provide effective consumer health protection.
OEKO-TEX.com
Rainforest Alliance and Forest Stewardship Council
Products with the FSC label contribute to the mission of ensuring thriving forests for all, with materials from responsibly managed, FSC-certified forests. Together with The Rainforest Alliance certification, this ensures that our latex mattress cores were produced with methods supporting three pillars of sustainability: social, economic, and environmental. Independent, third-party auditors evaluate farmers in all three areas before awarding certification. Standards focus on considerations for forests, climate, and human rights, including livelihoods.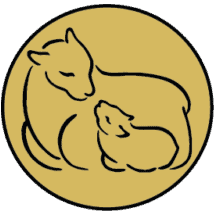 HANDMADE
All of our products are made by hand in our Northern California workshops. Our expert team of skilled crafters take great care to ensure that each product is made with the highest standards and purest intentions. All of our raw materials are carefully measured and checked at every stage of the process to ensure consistency and quality. Our production team strives to demonstrate the proper use of materials, production techniques, and lifestyle principles with a commitment to sustainable industry practices. Rather than factory made, our pledge to fine craftsmanship ensures that your all natural bedding is deeply rooted in an ancient tradition that values lasting quality versus planned obsolescence.
FIBERSHED
The Fibershed Producer Program is a membership-based network of farmers, ranchers, designers, sewers, weavers, knitters, felters, spinners, mill owners and natural dyers living and working within 51 counties in the North and Central regions of California.
MADE IN THE USA
Our company values a commitment to our local community, economy, and environment. As pioneers in the American natural mattress and bedding industry, we have worked hard to revitalize a sustainable domestic wool source. We take pride in representing the critical link between the local wool growers and our valued customers who enjoy the benefits of wool. The humbling responsibility towards locally handcrafted products not only supports our delicate economy in Northern California, it also benefits our global ecology and future generations.
SUSTAINABLE FURNISHINGS COUNCIL
"Sustainable" or "environmentally-safe" or "eco-friendly" furnishings are made and distributed in ways that protect our planet. SFC members take immediate steps to minimize carbon emissions, waste stream pollutants, un-recyclable content and primary materials from unsustainable sources from any product platform under their control. We are proud to recommend these companies to you during your search for healthy, pro-planet furnishings.