100% Natural Wool and Latex Mattresses
Handmade in the USA
Sleep Your Natural Best! Eco-Friendly Mattresses Made with Premium EcoWool® and Latex
Did you know an average person will spend roughly 1/3 of their life in bed? Those 7-9 hours per day add up to over 2,500 hours per year! Both scientific research and experience tells us that our wellbeing is connected to the quality of sleep we get in bed—and our mattress is one of the most important factors for getting the good night's rest we need.
But, here's the catch—most conventional spring-coiled and memory foam mattresses are made with toxic chemicals that harm your health, quality of sleep, and the environment. These chemicals have been linked to cancer, infertility, developmental brain disorders, obesity, headaches, and respiratory ailments such as asthma.
Instead, why not choose a natural mattress made from pure materials that offers dreamy comfort and support? At Shepherd's Dream, we offer eco-friendly bedding solutions—from our premium All Wool Mattresses to our Cascade Latex Mattresses.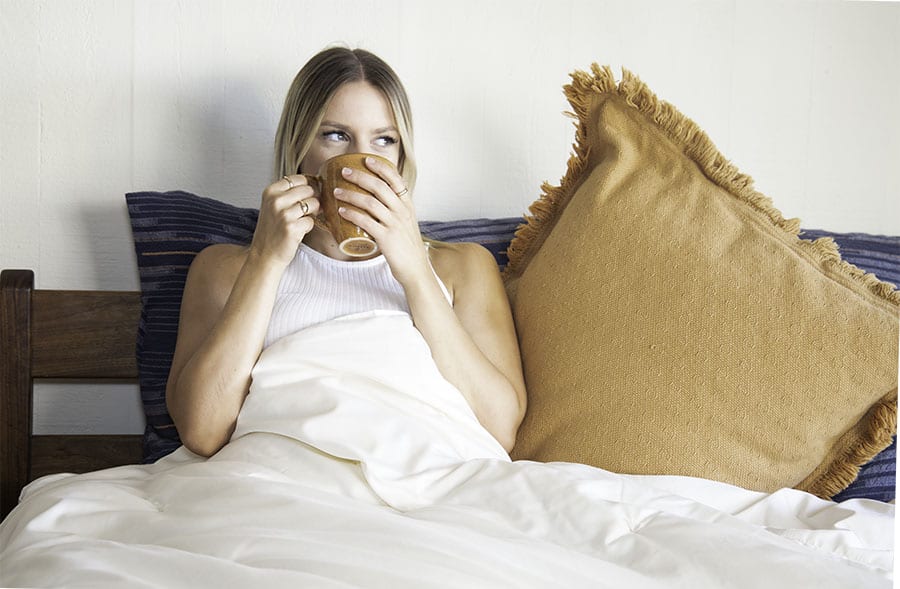 Pure Wool Bedding Reviews
"Incredibly well made…unparalleled comfort…worth every penny…you will wake up feeling refreshed every morning! I use it with a 3-inch latex mattress, topped by the incredible Snuggle Mate, and our organic mattress protector…and wool pillows of course! Best sleep system ever….this is the best investment in your health and well-being that you can make."
Judith
"My mattress and bedding are nearly 2 years old now and it is wonderful. My mattress, Snuggle Mate, and latex slats offer a firm but very cuddly nights sleep. The wool bed is always the right temperature, and my arms and legs don't go numb while I sleep. I love that I can take the bed layers apart to sun them and refresh them. Thank you, Shepherd's Dream, for making my beautiful bed! Well worth the investment."
Kelly
"My husband and I absolutely LOVE this mattress. It is nice and firm but still soft enough to be very comfortable. The best investment ever! Worth every penny. We also like that you can roll it up, we have King size one so if you are moving it would be much easier to move it."
Monika
Why Buy Our Natural Bedding?
Made from 100% natural, responsibly-sourced materials
No chemicals or flame-retardant toxins
Handmade in California, USA
Premium EcoWool batting
Natural relief of pressure points and back pain
Available in Twin, Twin XL, Full, Queen, King, & California King Sizes
The 5 Best Reasons to Buy Natural BedAll-Season Comfort
harOur mattresses are made with breathable fibers and materials, making them remarkably comfortable all-year round for everyone, whether you're a side sleeper, stomach sleeper, or simply looking to ease some back pain. Studies show that people who sleep with wool bedding have a lower heart rate, less sleep disturbance and increased duration of beneficial REM sleep. 
Chemical-Free
Conventional mattresses are a major source of chemical exposure. Highly toxic flame retardants and other harmful chemicals like polybrominated diphenyl ether (PBDE), boric acid, antimony, decabromodiphenyl oxide are commonly found in retail mattresses. Our natural bedding is fire resistant and toxin free.
Reduce Allergens
Our mattresses help improve sleep and health by preventing the collection and growth of harmful allergens like dust mites, mold, and mildew. Wool is naturally hypoallergenic and mold resistant thanks to its superior breathability and moisture management, preventing the damp conditions that molds and mites thrive on.
Eco-Friendly & Sustainable
All the materials found in our eco-friendly mattresses are biodegradable and chemical free. The wool for our bedding is humanely and sustainably produced. As a green business, we strive to make the best environmental choice in all aspects of our business and minimize our impact on the Earth.
Durably Made in USA
Unlike most mattress manufacturers, we believe the current trend toward inexpensive "disposable" products that are short-lived and made in foreign countries is unsustainable. That's why we only use the highest quality locally-sourced materials, and most of our products are handmade in our northern California workshop.
Handmade in the USA
At Shepherd's Dream, our philosophy is different than most mattress manufacturers who use poor quality materials to boost profits. Since 1997, it has been our joy to deliver high-quality natural bedding and excellent customer service to a growing population of natural product lovers nationwide—all from our homebase in Montague, California.
Our all-natural mattresses are 100% chemical free and American made. We only use the highest quality materials and believe in environmentally responsible production techniques and industry practices.
For extra natural comfort and support, consider adding some of our other products to your natural wool or latex mattress: wool mattress toppers, mattress protectors, wool comforters, wool pillows, organic cotton sheets, and Merino wool blankets.